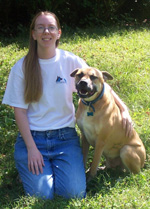 Christy and Bryan Williams
Hi, I am Christy Williams. My husband Bryan and I created Paws & Claws in 2001. Prior to becoming professional pet sitters, we both had employment and/or volunteer experience with several animal organizations including the Greater Huntsville Humane Society, Challenger's House, and Huntsville Obedience Training Club. The experience we gained caring for the animals at GHHS and Challenger's House is invaluable. We learned about animal behavior and body language, the effects of stress on animals, how to identify and treat illness, and so much more. We strongly believe that being a competent pet sitter requires not only a love of animals but also knowledge and experience. Our years of pet care experience allows us to identify the best way to care for each individual pet, and also how to handle any emergencies that may arise.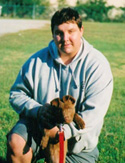 Bryan and I are currently owned by 3 dogs (Max, Cheekah, and Gunner) and 4 cats (Tang, Franny, Zooey, and Lila). All of our "babies" are rescues and mean the world to us. Like all animals they are each unique and have such different personalities. They are living proof that there is no "one size fits all" approach to pet care. From health care to training methods to nutritional needs, we base their care on what is best for each one. We have guided each of our dogs through several obedience classes at HOTC. Unfortunately, we have learned more than we would have liked through our own pets illnesses. Our dog Max is a cancer survivor, and our dog Cheekah has epilepsy. Thankfully everyone in our household is healthy at this time!! Caring for our own as well as hundreds of our clients pets continuously educates us. We believe that learning never stops!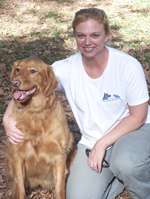 Christina Cain
Christina joined Paws & Claws in 2010, and is now our first full time employee.  Her history of working with animals is extensive – she has 6 years vet tech experience, and also owned a pet sitting service in Orlando.  She has worked at a crocodile farm and at a wildlife rescue working with large cats and bears.  Christina's heart is big and she finds great satisfaction caring for animals in need – whether it be treating a sick pet, caring for foster animals until they can find their forever home, or working with shy or aggressive pets.  Christina has spent many years volunteering with animal organizations, and currently volunteers with SNAP.  She is owned by her 3 dogs – Aggie, Kennedy, Maybe and 4 cats – Scooter, Dude, Applesauce, and Ahnyoung. Christina's wealth of experience and knowledge, along with her love and respect of all animals combines to make her an exceptional pet sitter!
Here's what our clients are saying about Christina:
"With my work, I'm always on the road & having pet sitting from Christina is the best for me. My cat receives not only his much needed medications, but lots of love and care. When I get back home, he's always happy, and I can see in his behavior that he has received excellent care. I do not know what I would do without Paws & Claws." -Guylaine P.
"When we returned home, our neighbors commented on how often they had seen Christina playing with our dogs and taking them out. I appreciated that she was visible so it looked like someone was at the house while we were gone. She timed her visits to make sure they were inside out of the storm and even made an extra trip when there was unexpected bad weather. We were very pleased with everything!" -Scarlet M.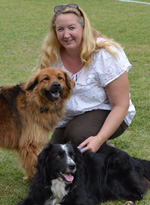 Megan Ottum
Meagan joined Paws & Claws in 2010, and serves the Madison/Harvest area.  She has been an animal lover since childhood, growing up on a farm in England and spending her high school summers volunteering with animal rescues and vet clinics. Meagan enjoys staying busy caring for her 3 dogs – Rosco, Murphy, Bella and 3 cats – Turbo, Jessie, and Casper.  She also volunteers with the American Red Cross and Army Community Service.  Meagan is intuitive and nurturing, allowing her to understand and meet each animal's unique needs.  She enjoys providing playtime and exercise for the pets in her care.  Meagan's clients can tell she genuinely loves their pets, and they feel secure in the knowledge that she will care for them as her own.
Here's what our clients are saying about Meagan:
"I was very grateful to Meagan and Christy for contacting me about caring for our three cats after the devastating tornado of April 27, 2011 that directly impacted our subdivision. Meagan took our cats to her home to care for them until I returned to Alabama. I was extremely concerned about them and was very thankful when she assured me that they were doing well. Meagan described the damage to our home and secured it as best as she could. I'm just happy that our cats survived. The house can be repaired. God bless Christy & Meagan for a job well done!"
-Phyllis of Harvest, AL.
"I am so happy with the pet sitting service I receive. I love to get texts about how things are going while away. I am so comfortable with Meagan caring for my Buddy and Lucy, and they are happy to stay home. Meagan treats my "pups", who are like my children, so well – we are all three handling my trips away very well. My pets are my family and it matters a great deal to me that they are well cared for. I am so appreciative and thankful that I can take my trips with peace of mind – thanks to Meagan." –Margaret H.
Ally Nethercot (picture coming soon)
Ally joined the Paws & Claws team in 2011. It has always been Ally's dream to work with animals. Before coming to Paws & Claws she volunteered with the Greater Huntsville Humane Society and also took online pet care courses. She currently volunteers with SNAP, and is in the process of becoming a certified pet sitter through NAPPS. With her dedication to the well being of all animals, and her enthusiasm for the job, she has quickly become a favorite among our clients. From her detailed notes, clients can tell how much love she gives their pets, and how much they enjoy her company. Ally shares her home with her dog Minnow, and her 2 cats Squishy and William.
Here's what our clients are saying about Ally:
Ally did SUCH a good job taking care of my dogs. I couldn't be happier with your service. I will absolutely use your service again in the future as well as recommend you to others whom may need it. It really brought a smile to my face to read Ally's note that she left. You can really tell that she enjoyed taking care of my dogs. I am SO PLEASED that I went with your service and am I thrilled to be your customer. – Jennifer Z.
We had a very bad experience with a previous dog sitter, so we were nervous leaving our dogs again. After meeting the staff, our fears were at ease. We came home from our trip to 2 very well cared for dogs. Our home was spotless & the lil notes that Ally left for us were awesome! We also loved the text message updates as well. We will be calling Paws & Claws again! We highly recommend using this pet sitting service! – Kim E.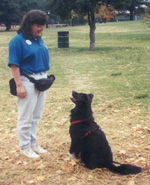 Cathy Palmer
Cathy has spent many years campaigning for the welfare of Huntsville's dogs and cats. She has been a board member of the Spay Neuter Action Project (SNAP) since 1998 and has been their Treasurer since 2001. She was on the Animal Care Committee of the Greater Huntsville Humane Society for 8 years. She is an excellent trainer at Huntsville Obedience Training Club (HOTC) where she has taught a Companion class (manners and problem solving) for the last 12 years as well as helping to administer the Canine Good Citizen test and organize other events such as obedience trials and the annual community Dog Fair. She also served on the board of directors of HOTC for 3 years. Cathy has a soft spot in her heart for large dogs and is currently owned by her 2 dogs, Shelly – a setter mix and Basil, a Lab mix.